This webinar will discuss Aortic Valve Replacement with a focus on a percutaneous approach as opposed to an "open" approach. We will also discuss the minimally invasive incisions being performed, along with additional techniques being utilized that we will encounter in operative reports.

Educational Materials for this webinar were created following FY2019 Official Coding Guidelines.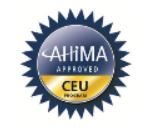 2 AHIMA Credits - Valid for training viewed December 21st, 2018 to December 21st, 2019

Available Now!
Group Pricing: Please contact Katie Fowler at kfowler@imedx.com