OB Coding - Delivering Answers to Everyday Questions

In this webinar we will address questions that arise in appropriate assignment of the 7th character, Trimesters, as well as principal diagnosis. We will review the Official Coding Guidelines for Obstetrics and will also address Procedural coding for encounters during pregnancy, childbirth and the puerperium.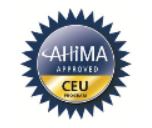 2 AHIMA Credits - Valid for training viewed September 12th, 2018 to September 12th, 2019
Available Now!

Group Pricing: Please contact Katie Fowler at kfowler@imedx.com