Spinal Procedures (Part 2)
This one-hour webinar expands on concepts presented in Part 1 with a more in-depth dissection of operative reports and the rationales and code assignments for these challenging procedures.
Educational Materials for this webinar were created following FY2018 Official Coding Guidelines.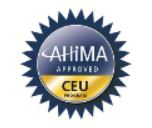 1 AHIMA Credit - Valid for training viewed from February 1, 2018 to February 1, 2019.
Available Now!
GROUP PRICING: Please contact Katie Fowler at kfowler@imedx.com.