Spinal Procedures ICD-10-PCS Part 1 - Available Now!
Arthrodesis, Fusion, TLIF, PLIF, XLIF, Autologous Tissue Substitute, Interbody Fusion Devices, Discectomy, Laminectomy.  These are all terms seen in coding fusion procedures.  Are your coders challenged with coding spinal fusions and related procedures? This one-hour webinar addresses the challenges of coding spinal fusions, discectomies, decompression procedures and a detailed review of the anatomy of the spinal cord.  Operative Reports of these procedures are presented to identify the key phrases that drive the code assignment. Code tables for these procedures are also reviewed.
Educational Materials for this webinar were created following FY2018 

Official Coding Guidelines.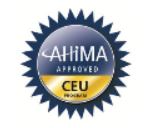 2 AHIMA Credits - Valid for training viewed from February 1, 2018 to February 1, 2019
GROUP PRICING: Please contact Katie Fowler at kfowler@imedx.com.