CY2018 OPPS Regulatory Update - Available Now!
We'll be covering the new additions and deletions made for CPT coding for calendar year 2018 as well as the many changes made for 2018 OPPS changes, including new technology APCs and changes to the inpatient only procedure list.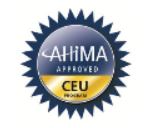 3 AHIMA Credits - Valid for training viewed from January 4, 2018 to January 4, 2019
1 AAPC Credit  - valid through 1/31/2019
Available Now!
Group Pricing: Please contact Katie Fowler at kfowler@imedx.com